Sierra went back to NYC yesterday after a wonderful ten days at home for the holidays.  It's hard not to be sad when visits with friends and family come to an end, but the more times I experience the wheel of hellos and goodbyes the more I'm able to focus on gratitude for the laughter and love shared, rather than melancholy.  And after the rush of the holidays, winter inspires me to dream of how I might manifest joy and beauty in the year ahead.  
Speaking of manifesting, in the last blog I mentioned that I was making Watercolor Silk Tapestries in a larger 18"x30" format.  One of them, Bohemian Floral, is featured in the Pinterest Pin above, which Sierra created while she was home.   I think she did an awesome job!  Also, there are now limited edition giclee prints of Sierra's Leaf painting, also featured in the pin. 
Here's another of the 18"x30" Watercolor Silk Tapestries which, for me, depicts the mystical sanctity I often feel on hikes in the forest.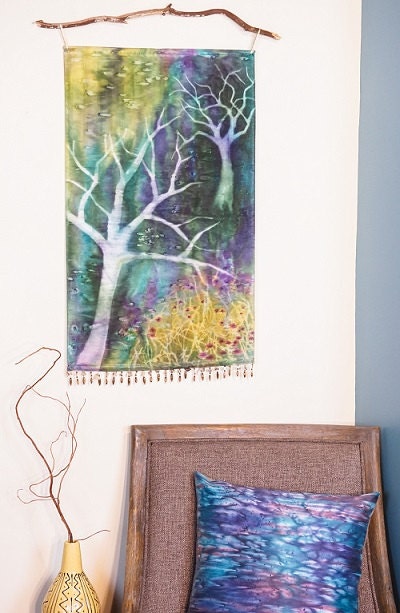 Sierra and I will undoubtedly be dreaming up more creations in the days to come.  If you'd like to be the first to receive notices of new items, discounts, and promotions, we invite you to sign up for ocassional emails at the bottom of the page.  They're sent four to six times a year. 
Happy New Year!
Cara