Ever painted an entire room with a color you love only to regret it before the last brush stroke dried? Color can be an elusive element in the challenge of creating a beautiful space. Luckily artists can teach us some basic rules of thumb that apply as aptly to decorating your home as to painting a canvas. Read on to get in touch with your inner Van Gogh (or Sherwin Williams)!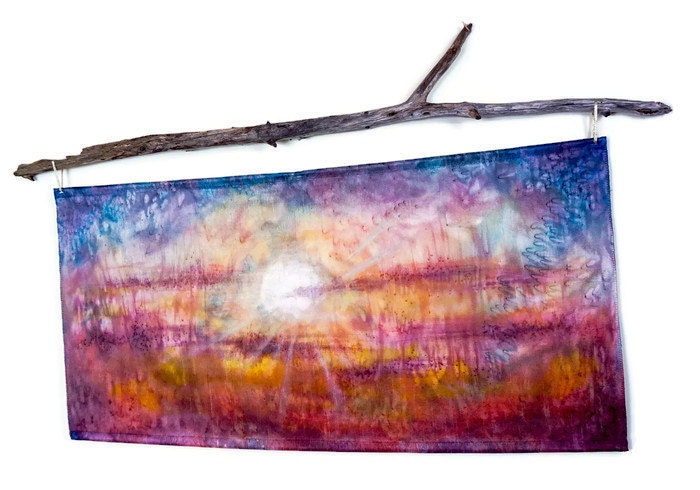 Sunrise Watercolor Silk Tapestry
3 Tips On Color To Make Your Home A Work Of Art!
1.  . In home decor this translates to selecting a mood for your room. Generally, cool colors like greens, blues, and grays help us to take a deep breath and relax. Warmer tones - reds, yellows, and oranges- perk us up.  Color Psychology plays a huge role in home decor!
2. . Artists often use a color wheel for this purpose, but a simple way to achieve this goal is to keep an eye open for everyday items with colors that ring your bell. It can be anything; a book cover, a pillow, fabric, or even a label on your pickle jar! Or if you are in love with, say, sage green, but don't know what colors go well with it, try this cool online color scheme generator tool. It will give you a multitude of gorgeous color palettes built around your color(s) of choice. And, to be inspired by the best in home decor, check out our Watercolor Muse Pinterest Page for a gazillion images of gorgeous rooms in every color under the rainbow.
3.. Consider these artistic methods to achieving color harmony based on the look you are going for:
 ~ Neutral - Value, the lightness or darkness of a color, plays an especially important role in neutral color schemes. For a chill vibe the majority of the space should be a light or medium shade of a neutral color, like tan or gray, with very light and very dark decorative accents for interest. For more drama reverse the equation, using a higher percentage of high contrast colors like black and white or espresso and cream. Highly textured textiles like bulky, soft throws add character and sensual delight! 
 ~ Bold - A trick to combining several bright or bold colors is to keep the value of these colorful hues the same. For instance, if the mood of the room is playful, jewel tones like turquoise, coral, and yellow will infuse it with energy. Or if it's a rich, Tuscan look you're after, deep, muted shades of teal, burnt orange, and caramel will create an earthy retreat. Want to create a light, coastal vibe? Pastel tints like aqua, peach, and a sandy tan will bring the beach to you! Treat yourself to some beautiful eye candy at our Pinterest Board on Colorful Home Decor Ideas.
 ~ Pops of Color - Large areas of neutral colors accented with bold colors create a look that is livable and lively - great for rooms we spend a lot of time in. Neutral walls and furniture with colorful accessories like rugs, pillows, linens, and artwork combine for a pulled-together look that is harmonic and expressive.  An added bonus is that it's  less expensive to change out the accents when you're craving a different look, without investing in big ticket items like a new sofa! 
 "Feeling blue", "green with envy", "tickled pink" are funny old sayings that have become universal expressions for describing emotion. But maybe they're not just funny. Current research is backing up assertions that color has a significant impact on our state of mind. . Becoming aware of how colors affect you personally is the important thing when it comes to your home decor. Pay attention to the color schemes that attract your eye and make you happy. Our homes are our sanctuaries, where we go to rest, relax, heal, and connect with our loved ones. Making that space a beautiful reflection of our unique tastes is a way of living artfully and mindfully. Be the color you want to see in the world! 
For more decor tips, exclusive discounts, & updates on new items subscribe to our occasional newsletter and get 10% off & Free Shipping on your first order.